Love for a country often starts in the stomach, which is where my infatuation with Indonesia really began and but for a change of history and geography could have abruptly ended. So let me chart the culinary highs and unsavory lows with five dishes from the main islands of Indonesia. I'll start with the delectable, before moving through to the odd and in my opinion the down right disgusting.
Java: Gudeg
Cow skin, soaked and boiled in spices for 24 hours until it has the texture of a sponge. These chunks of skin are then mixed in with a sauce made from young jackfruits and chilies with a side of chicken or possibly an egg (don't worry, you don't need to pick which one came first, you just need to eat it!). The list of ingredients sounds unappetizing. To make matters worse, authentic Gudeg restaurants will only open at 10 or 11 at night. However, despite the combination of inhospitable opening times and down right odd ingredients, Gudeg has to be one of my favorite Indonesian dishes.
Sulawesi: Es Pisang Hijau
Es Pisang Hijau looks like something that could have come off the set of the Ghostbusters movie. This sweet desert is made from chunks of banana covered in a luminous green pastry like substance and comes with a bright barbie pink and white sauce. The colour scheme immediately made me think of candyfloss, which although tasty contains so many artificial flavorings and sweeteners that you just know can't be any good for you. Yet, you will be glad to know not only is this dish delicious, but it contains 100% natural ingredients.
Papua: Bakar Batu
It wasn't so long ago that the only real source of large game in the highlands of Papua were humans. Luckily for Papuan chefs and indeed the tourism industry, pig was soon introduced and replaced humans as the dish of choice for the local population. Today a firm local favourite is Bakar Batu, where the carcass of a slaughtered pig is placed in the ground and covered with hot stones. As long as you like the taste of pork, the result is always going to be fantastic.
Sumatra: Makanan Padang
It is unfair to single out Sumatra. The island offers some really delectable dishes. Acehnese food and especially the coffee is simply amazing. However, instead of celebrating Sumatran cooking, I decided to warn you about the cuisine from Padang, which like a disease has spread to every corner of Indonesia.
Padang dishes are cooked just once a day, probably in the early hours of the morning when every sensible mortal is sound asleep. This means by the time you arrive at a Padang restaurant, the glistening intestine brochettes, rubbery meat and cold vegetables have been sitting in a vat of palm oil for the best part of a day. The only attempt to make this food palatable is the addition of a spicy paste made from ten million chilies. Ok, I'm exaggerating here, but I really don't like Padang food.
Kalimantan: Nasi Kuning
Traditionally Nasi Kuning is cooked for breakfast, birthdays and celebrations and is as much a piece of art as it is a tasty dish. The cone of yellow rice in the centre of the plate is surrounded by a host of side dishes; spicy vegetables, omlette, fried chicken, beef floss and fried tempeh are just some of the things that are on offer. Remember though, it is primarily a meal, so don't be afraid to remove the banana leaf decorations and tuck into my favourite breakfast.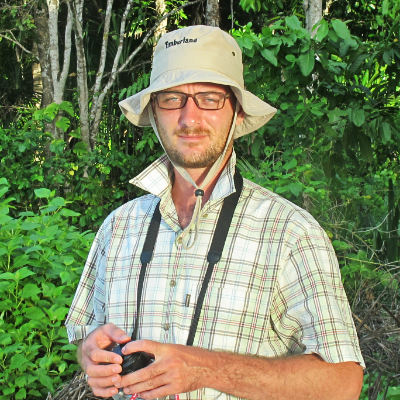 Nico runs A Travellers Journey. Since finishing university he left the security of his home in England to see the world. He has lived in seven countries on four continents and learnt four languages. He has volunteered and worked, scrimped and scraped to travel to many more. Feel free to visit his site where you can learn how to avoid living a life full of regrets or just be entertained by his traveling tales.